Local, national and international news on hemp industry developments
SA Industrial Hemp Trials
Update Report –Sept 2020
The latest report from the SARDI Hemp Trials is now available. Download your copy by clicking on this link – SA Industrial Hemp Trials
Good Country Hemp – 12/6/2019
In our first year we had 6 contract growers from Hindmarsh Valley to Millicent, all irrigated crops, 96ha sown using 3 French varieties. Varied results between farms but an important factor evident was seed bed preparation and crop establishment. Crop nutrition is also an important factor. Harvesting operations went well and wrapping became an issue with more mature crops, weather conditions and header type. Our new grain dryer worked well, and we are pleased with our first-year efforts.
Harvested seed is currently being cleaned and graded while we make final additions to our processing plant. Final bottle and package designs have been signed off and we hope to have oil ready for sale at the end of June, and hulled hemp seed at the end of July. Our website should be complete by the end of June.
We are aiming for 400ha to be planted in November with 2 French and one Canadian variety. Sowing dates to be varied depending on grower commitments and we will also try different sowing rates. Some dryland hemp will also be sown. We have contracted an experienced hemp agronomist from Tasmania to give intensive agronomic advice to our growers this coming season in a further effort to maximize hemp seed yields.
The PIRSA trials at Kybybolite and Maaoupe have been a great support to our decision making and accelerated our progress at these early stages with variety selection and optimum sowing time.
We look forward to finally getting our GOOD hemp products to the shelves soon and the oncoming growing season ahead.
GOOD health to all!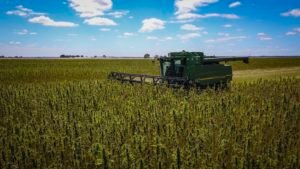 Mick Andersen
Managing Director
M 0427 230 350   |   T +61 8 8752 1307 
Private Bag 2, 20 Cleggett Road,
Bordertown SA 5268
www.goodcountryhemp.com.au